6 en 7 october 2018
In Warehouse Het Veem
Do not miss it!!
Toets des Tijds Concerten (Keys of Times) presents a Festival of instruments from large and small clavichords, harpsichords all the way to heavy fortepianos and modern grand pianos!
The program consists of compositions from Bach's time and works written by contemporary composers.
During the Festival Rosanne Philippens, Petra Somlai, Gerard van Vuuren and Kaoru Iwamura will tell about differences between the past and now days, loss of some instrument types and why the modern grand piano took over in the keyboard family of instruments since 1850.
Tickets: € 15,00/€ 12,50 with discount (Stadspas/65+/CJP/Studentenpas)
Passepartout €35,-/30,-€ with discount (Stadspas/65+/CJP/Studentenpas)
if purchaising online
At the kassa on the day of the concert + 2€
Saturday 6 Oct 15:00
Kaoru Iwamura  – table piano* and fortepiano
Programme: McGowan, Egberts, Van Tiddens, Germán, Moreno Camacho, Giron (world premiere), C. Ph. E Bach, Clementi
Kaoru Iwamura is a performer on early keyboard instruments. She won the Muzio Clementi Award, presented to her in the British Finchcocks Musical Museum for her subtle performances on keyboard instruments from 1668 to 1866. Kaoru was born in Tokyo, Japan, where she studied piano at the Musashino Academy of Music. Her passion for the fortepiano took her to the Netherlands where she further pursued her interest in historical performance practice at the Koninklijk Conservatorium in The Hague and the Sweelinck Conservatorium in Amsterdam. Kaoru has given recitals in the Netherlands, Great Britain, Austria, Germany and Japan, and was featured in a live broadcast in the Dutch AVRO radio4 network. In 2013 she was invited to give a solo recital and masterclass in the 'Nordic Historical Keyboard Festival' in Kuopo, Finland, with a scholarship from the Asahi Shimbun Foundation. As a member of the board of the Sweelinck Collection she is committed to the promotion and preservation of a unique collection of fortepianos in Amsterdam. More info:www.kaoruplaysfortepiano.com
* the Puhlman table piano belogs to the Sweelinck Collection in Geelvinck Muziek Musea
________________________________________________
Sunday 7 Oct 15:00
Gerard van Vuuren – clavichord and harpsichord
Programme: Bartók, Stravinsky, Haydn, Satie, C. Ph. E Bach, J. S. Bach, King, d'Anglebert
Gerard van Vuurenwas born in Surinam, he moved with his family to Holland when he was 7 years old. He started playing the piano at age nine, and studied this instrument at the Sweelinck Conservatory in Amsterdam. Realising he was getting more and more interested in Baroque music, he decided to switch instruments, and went to study harpsichord with Jacques Ogg at the Royal Conservatory in The Hague – where he graduated in 1992.Together with fellow-students he founded 'The Beggar's Banquet', giving concerts in Holland, England, Germany and Poland.
Gerard has been playing continuo with several other ensembles and choirs. He has also been featured as accompanist at Baroque music festivals, including the International Early Music Course at Mateus (Portugal), where he also took part in concerts in Northern Portugal. Since a few years Gerard also plays the clavichord, and is excited by its possibilities – broadening his technical abilities and musical horizon. Together with Amanda Markwick he is part of the ensemble Il Sussurro.
____________________________________________________
Sunday 7 Oct 20:15
Rosanne Philippens  – violin
Petra Somlai – fortepiano
Programma: Beethoven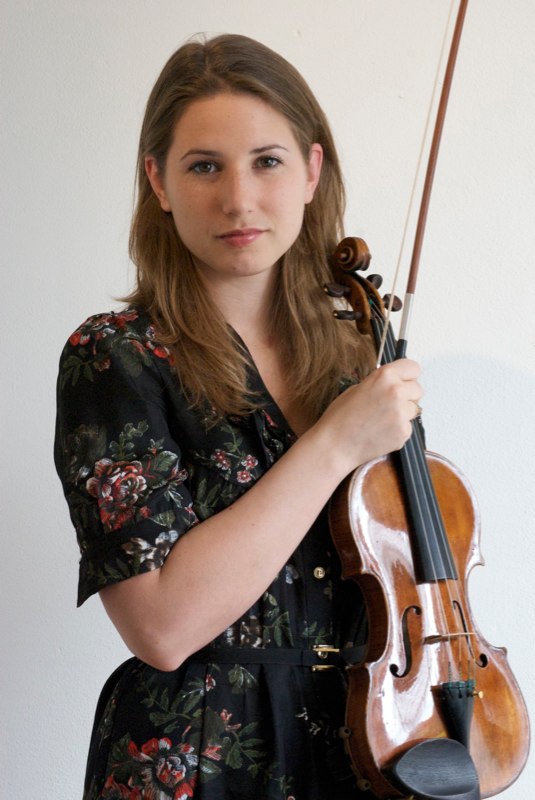 Rosanne Philippens open and communicative style of performance won her first prizes at competitions including the Dutch National Violin Competition (Amsterdam Concertgebouw 2009) and the Freiburg International Violin Competition (2014).
Rosanne has appeared as a soloist under Yannick Nézét-Sequin, Lawrence Foster, Antony Hermus, Michel Tabachnik, with orchestras including the Rotterdam Philharmonic Orchestra, the Philharmonisches Orchester Stuttgart, the Barcelona Symphony Orchestra and the Jerusalem Symphony Orchestra, and she performs regularly at the Concertgebouw Amsterdam, the Berliner Philharmoniker and other prestigious venues.
In the 2017-18 season Rosanne will appear with the Dutch Radio Philharmonic Orchestra in the famous Saturday Matinee Series in the Concertgebouw, with the Amsterdam Sinfonietta, the Sinfonie Orchester Sankt Gallen, the Joensuu Chamber Orchestra, the Orchestre International de Genève and at festivals in Iceland, France, Israel, Germany and The Netherlands.
For 2018-19 concerts are scheduled with the Rotterdam Philharmonic Orchestra and the Residentie Orchestra The Hague.
Rosanne captures a great love for chamber music. She appears regularly with musicians suchas Nicolas Altstaedt, Vilde Frang, Julien Quentin, Torleif Thedéen, István Várdai, Víkingur Ólafsson, Guy Braunstein, Amihai Grosz and other fine musicians all over Europe and in major halls like the Concertgebouw, the Berliner Philharmoniker,Tonhalle Zürich, Laeiszhalle Hamburg.
In an old Amsterdam warehouse/antique shop, Rosanne is hosting her own concert series called 'The Amsterdam Salon'. The evening opens with a concert, played by Rosanne and her friends from all over the world, following a clear theme, while the audience listens on comfortable couches, sipping good wine. After the concert there is an artist-jam session until the early hours.
Rosanne started to play violin at the age of three with Anneke Schilt and later on with the famous violin pedagogue Coosje Wijzenbeek. She continued her studies with Vera Beths at the Royal Conservatory in The Haag, and with Ulf Wallin at the Hanns Eisler Akademie in Berlin, graduating from both with the highest possible grades.
On personal recommendation of Janine Jansen, Rosanne plays the 'Barrere' Stradivarius from the Elise Mathilde Foundation, the violin that Janine Jansen used to play for fifteen years.
Petra Somlai
 was born in Hungary where she graduated in conducting and piano performance at the Béla Bartók Conservatory (Budapest) and completed her modern piano degree at the Franz Liszt Academy of Music (Budapest) in 2007.
She performs at major international early music festivals such as Musica Antiqua Festival – Brugge, Early Music Festival – Utrecht and many other. Petra has given concerts all over Europe, the USA, and Japan. Since 2012 she has performed often as a conducting soloist with various orchestras. Petra Somlai was a professor of Early Keyboards on the faculty of University of North Texas (USA) from 2013-2015.
Currently she is professor of fortepiano at the Royal Conservatory in The Hague.
 This Festival is sponsored by Gravin van Bylandt stichting en Het Veem
Poster design by Jaela van Tijn.